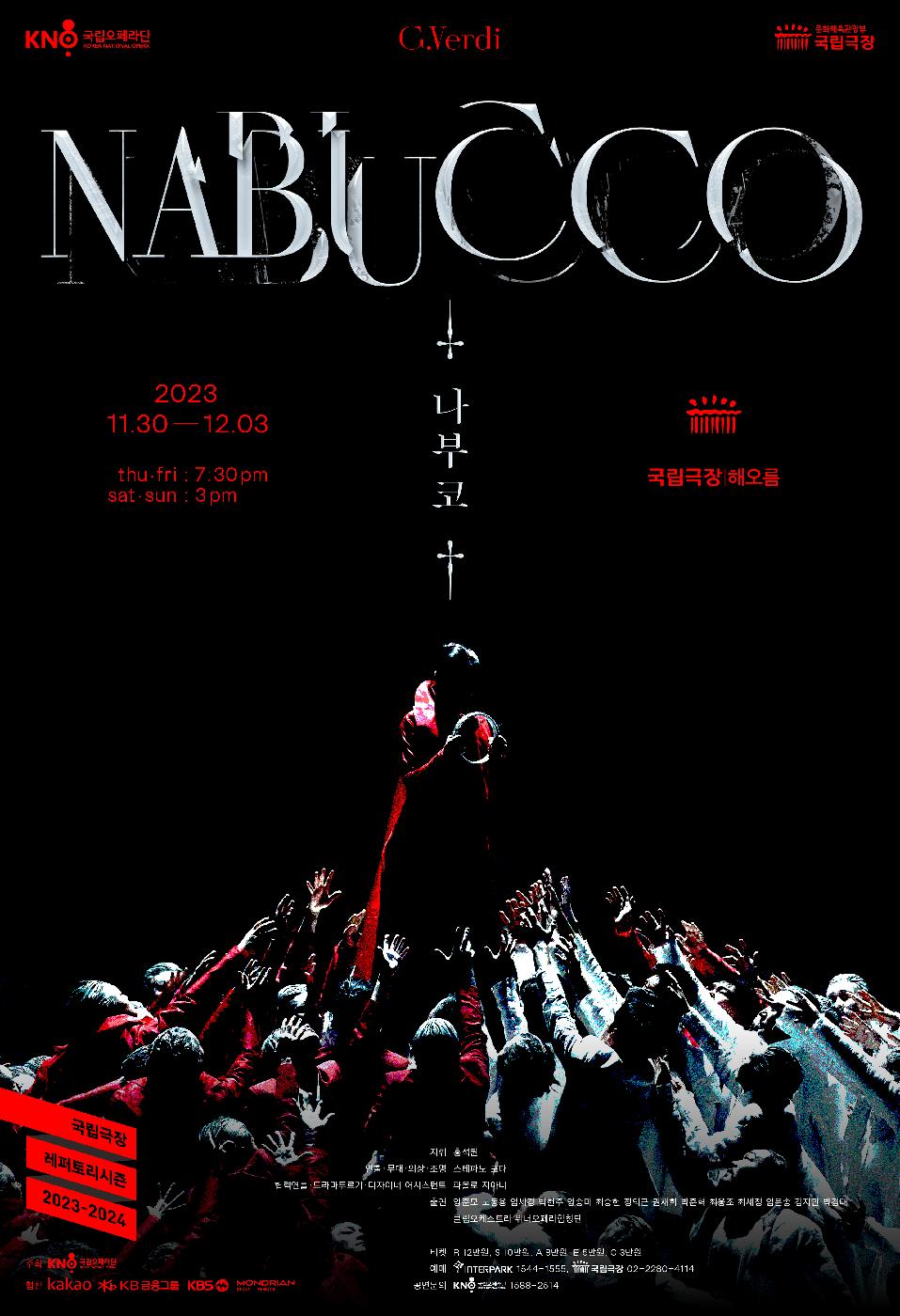 Nabucco

Date

2023.11.30 ~ 2023.12.03

Time

Weekdays 19:30, Weekend 15:00

Place

Haeoreum Theater, National Theater of Korea

Ticket

R 120,000 S 100,000 A 80,000 B 50,000 C 30,000 myOpera LIVE 20,000

Viewing Rating

For age above 8

Reservation

+82-1588-2514
Introduction
"Fly, thought, on wings of gold; go settle upon the slopes and the hills,
where, soft and mild, the sweet airs of our native land smell fragrant!"
The Beginning of Verdi's Artistic Career
An Opera of National Liberation and Peace
"Nabucco" brought fame to Verdi when he suffered from successive failures and misfortunes in his youth. Later in his life, Verdi said, "this is the opera with which my artistic career really begins." KNO will present "Nabucco" as its last production of 2023. The audience will appreciate and enjoy the message 'life is about looking forward with hope.; The highlight of this piece, the "Chorus of the Hebrew Slaves," will invite the audience to an overwhelming experience with a sound as intense as a waterfall created by a large-scale choir and orchestra. Director Stefano Poda, who uses the stage as a new dimension, and Maestro HONG Seok-won, a conductor with a soft charisma, will collaborate once again as they did in 2021. Back then, the costumes with traditional Korean patterns and the set of a grand scale surprised the audience. This production is expected to, once again, leave a deep impression with spectacular scenes including the large-scale mob scene.​
Synopsis
Nabucco, King of Babylon, attacks Solomon's Temple in Jerusalem, insults the God of Israel, and orders to burn the temple. Meanwhile, Ismaele, nephew of the King of Jerusalem, and Princess Fenena, Nabucco's younger daughter, fall in love with each other. The Babylonian Priest encourages Abigaille, Nabucco's eldest daughter, to spread rumors that Nabucco is dead and plots to kill Fenena. Nabucco returns and commands he should be worshipped as divine. Then, a thunderbolt strikes Nabucco down, causing the crown to fall from his head. Abigaille takes this chance to put the crown on herself and imprisons Nabucco. Nabucco regrets his past and praises the God of the Jews. After drinking poison, Abigaille asks Fenena to forgive her and dies.
PHOTO