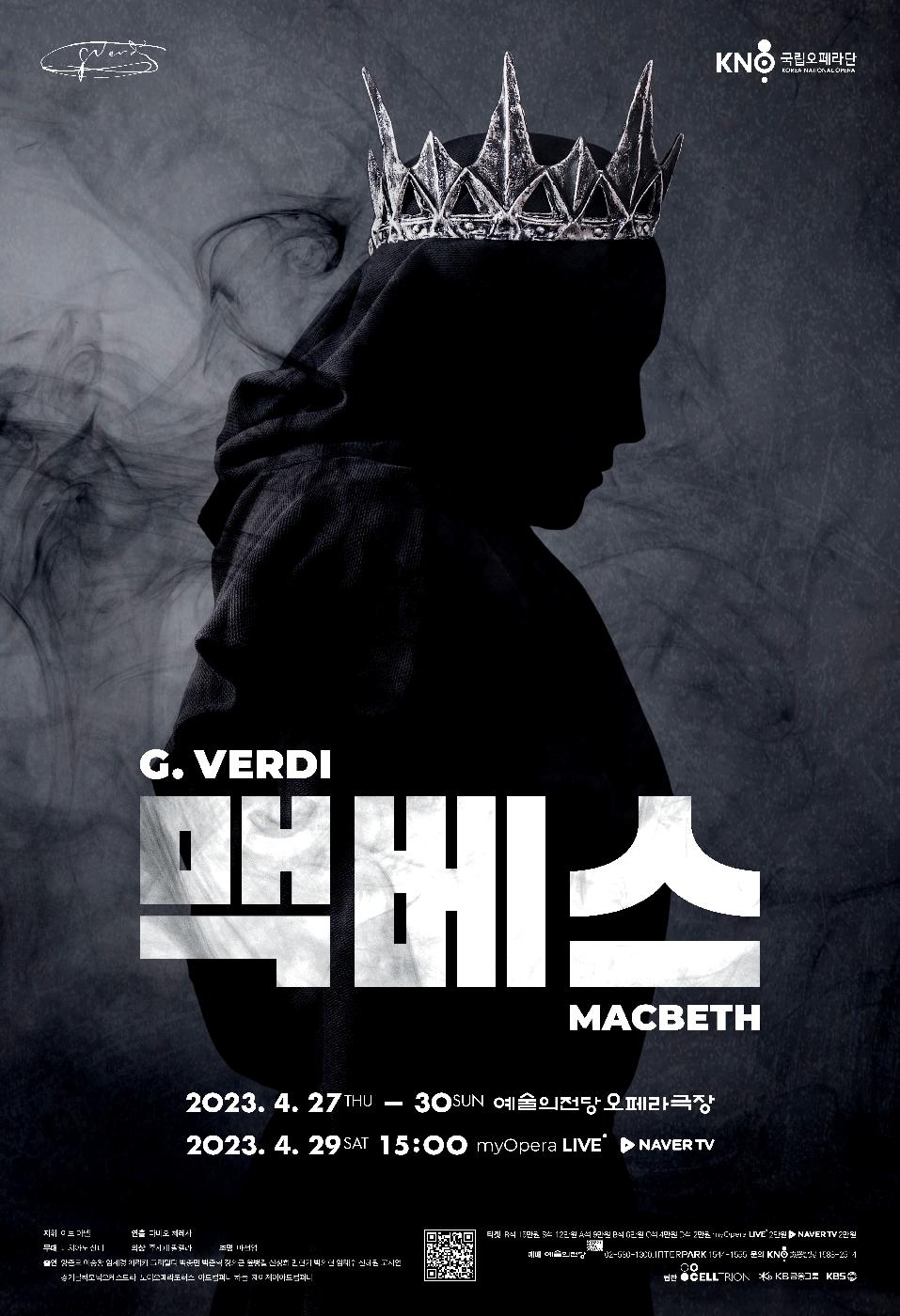 Macbeth *New

Date

2023.04.27 ~ 2023.04.30

Time

Weekdays 19:30, Weekend 15:00

Place

Opera Theater, Seoul Arts Center

Ticket

R 150,000 S 120,000 A 90,000 B 60,000 C 40,000 D 20,000 myOpera LIVE 20,000

Viewing Rating

For age above 7

Reservation

+82-1588-2514
Introduction
"Will all great Neptune's ocean wash this blood clean from my hand?
No, this my hand will rather the multitudinous seas incarnadine,
making the green one red."
Unrivaled Stage; A New Production in 16 Years
Aria of Unstoppable Desire for the Throne
"Macbeth" is an opera unraveling Shakespeare's exquisite psychological portrayal of the characters through an elaborate musical structure. The opera has over ten set transitions and intense performances of the witches and is a feast of dimensional characters. The opera will be directed by Fabio Ceresa, whom critics and audiences highly acclaimed for offering the essence of the impressive and antique baroque opera in "Orlando Finto Pazzo" in 2016 and a clear interpretation and intuitive staging in "I Vespri Siciliani" in 2022. The conductor for this piece is Yves Abel, a maestro evaluated as 'this generation's most compelling conductor' performing worldwide at Metropolitan Opera in New York, Covent Garden in London, and La Scala in Italy. He will embody Verdi's description of heated human desire and the desperate destruction of the soul through energetic music.​
Synopsis
Macbeth, the Thane of Glamis, returns after winning the battle against the rebels. On his way back, he is greeted by three witches who foretell that he will be King. Blinded by ambition and instigated by his wife, Macbeth murders King Duncan and becomes the King of Scotland. However, even after becoming the King, Macbeth feels threatened by the witches' prophecies and proceeds to kill his friend Banquo. Horror-struck by the ghost of Banquo, Macbeth kills those in the line of succession one after another, heading to an uncontrollable catastrophe. Finally, he engages in a fatal confrontation with Macduff, who returns to regain the throne.
Production
​
Conductor

Yves Abel
Stage Director Fabio Ceresa
Sets Director Tiziano Santi
Costumes Designer Giuseppe Palella
Lighting Designer Seon Young Ma
Projaction Designer Suho Jang
Choreographer Mattia Agatiello
Hair & Make Up Designer You Jin Koo
Assistant Conductor Junyoung Kim
Chours Master Yong Gyu Park
Associate Director Eunbi Cho
4.27(Thu) / 29(Sat)
Macbeth(Bar.) Antonio Yang
Lady Macbeth(Sop.) Sae Kyung Rim
Banco (Bass) Jongmin Park
Macduff(Ten.) Yi Kun Chung
Lady-in-waiting(M.Sop.) Sung Hee Shin
Malcolm(Ten.) Hyun Ki Min
Doctor / Servant of Macbeth(Bass.) Eui Hyun Park
Herald / Assassin / Apparizione 1(Bass) Taesu Im
Apparizione 2(Sop.) Hye Won Shin
Apparizione 3(Sop.) Si yeon Ko
4.28(Fri) / 20(Sun)
Macbeth(Bar.) Sung Wang Lee
Lady Macbeth(Sop.) Erika Grimaldi
Banco(Bass) Jun Hyuk Park
Macduff(Ten.) Byung Kil Yoon
Lady-in-waiting(M.Sop.) Sung Hee Shin
Malcolm(Ten.) Hyun Ki Min
Doctor / Servant of Macbeth(Bass.) Eui Hyun Park
Herald / Assassin / Apparizione 1(Bass) Taesu Im
Apparizione 2(Sop.) Hye Won Shin
Apparizione 3(Sop.) Si yeon Ko​
​
Preview video
PHOTO