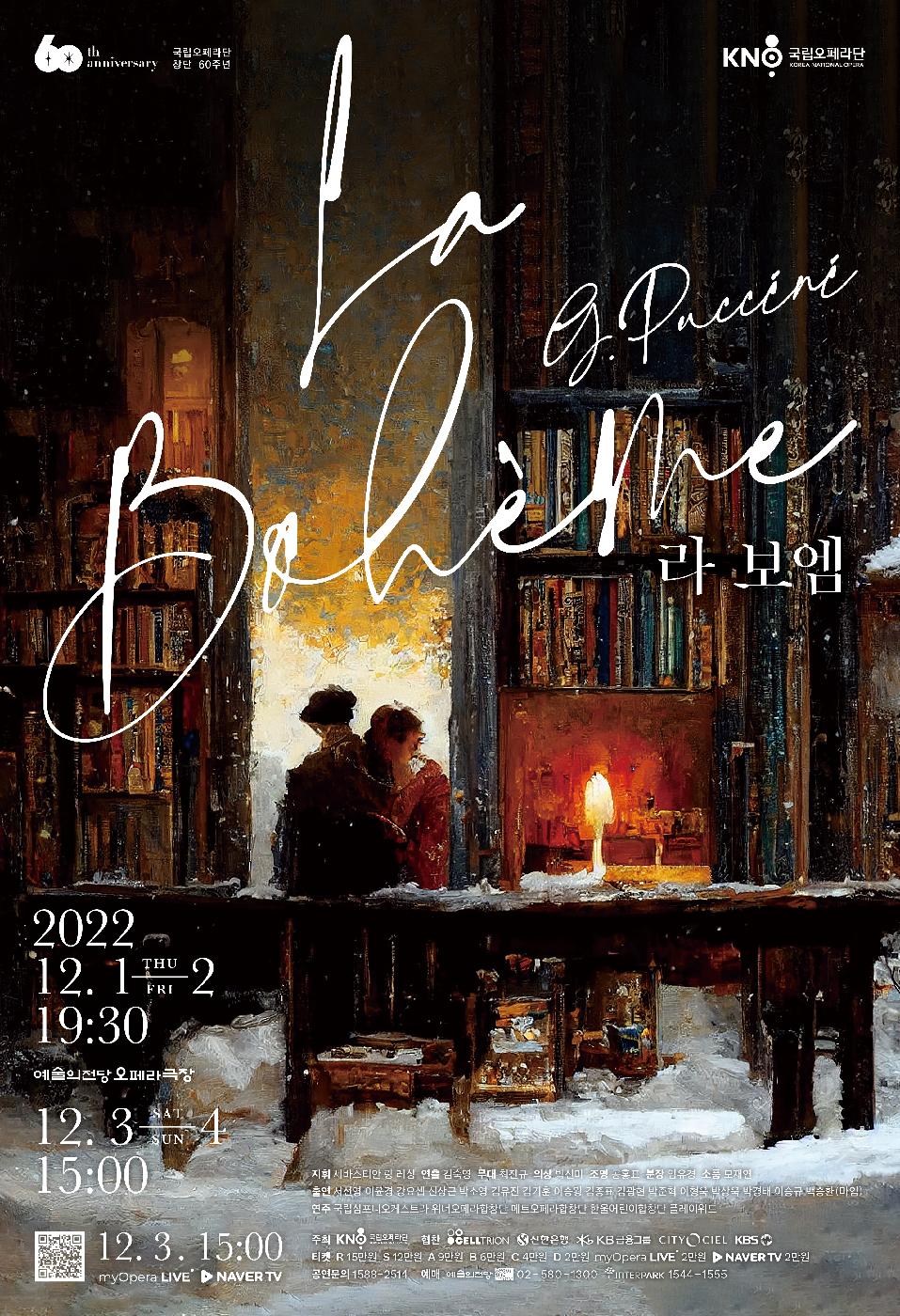 G.Puccini_La Bohème

Date

2022.12.01 ~ 2022.12.04

Time

Weekdays 19:30, Weekend 15:00

Place

Opera Theater, Seoul Arts Center

Ticket

R 150,000 S 120,000 A 90,000 B 60,000 C 40,000 D 20,000 myOpera LIVE 20,000

Viewing Rating

For age above 8

Reservation

+82-1588-2514
Introduction
The story of young artists
longing for dreams and love
< La Bohè​me >
Composer​ Giacomo Puccini
Libretto​ Giuseppe Giacosa, Luigi lllica
Premiere​ 1896, Teatro Regio di Torino
"La Boh
è
me" means Bohemian girl, representing the "love, hurt and loss" of all young men and women. As the story deals with the youth and pain of poor young artists—unable to even heat their room—who came together for "art", the young people of the present time will be able to relate to them. Moreover, the piece is full of beautiful lyric arias such as "Che gelida manina" and "Sì, mi chiamano Mimì". This beautiful opera set in winter will melt the hearts of the audiences visiting the holiday performances with families and loved ones.
Synopsis
A poor poet, Rodolfo falls in love with Mimi Mimi's tuberculosis gets worse, so he decides to break up with Mimi. He feels sorry for his poverty. Mimi is getting sick and she comes to see Rodolfo. Mimi and Rodolfo look back on the past that was beautiful in a cold room. ​
Production
Conductor Sebastian Lang Lessing
Stage director​ Sook Young Kim
Sets​ Jin Kyu Choi
Costumes​ Sun Mi Park
Lighting Hong Pyo Park
Make up Yoo Kyung Yim
Props Jae Yron Mo​
CAST
Mimi Seon Yeong Seo, Yun Kyung Yi
Rodolfo Joseph Kang, Andrea Shin​
​Musetta So Yeong Park, Yu Jin Kim
​Marcello Gi Hoon Kim, Sung Wang Lee
​Schaunard Jong Pyo Kim, Kwang Hyun Kim
​Colline Jun Hyuk Park, Hyeong Uk Lee
Benoît​ / Alcindoro Sang Uk Park, Kyung Tae Park
Parpignol Seung Gyu Lee
Mime Seung Hwan Baek
Korean Symphony Orchestra
Winner Opera Chorus​
MET Opera Chorus​
Hanul Children's Choir
PLAYWITH​​
* The cast could be changed by performance schedule. ​
PHOTO